To receive funding for your next real estate project, just follow these 4 SIMPLE STEPS:
1: Loan Amount
Short on time? It takes less than five minutes to submit your client's information, and our team will contact you with a decision ASAP. There's no reason not to apply today – especially since your clients can receive the funding they need in as few as five days!
2: Secure A Loan
After our team reviews your client's application, we will contact you if we need any additional information (such as paperwork including a real estate title or simple balance sheet). If everything is in order, your client's funds will be cleared as soon as terms are agreed upon and the closing paperwork is signed – moving them one step closer to finalizing the real estate opportunity of their dreams!
3: Finalize Your Real Estate Deal
With the support of Gravity Capital LLC funding, your clients are now ready to embark on their real estate journey with complete and total confidence. Our team will be with both of you every step of the way, helping you navigate through tough decisions while increasing profitability throughout the process. The sooner you apply, the closer you are to securing the funding your clients need for their future real estate project.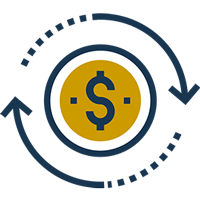 4: Flexible Repayment Schedules
At Gravity Capital, we know that no two clients are alike – which is why we offer several different repayment options. Our flexible schedules (weekly, monthly, quarterly) are tailored to suit the needs of our clients; not the other way around. As equity in your clients' real estate portfolio grows, you can relax comfortably knowing that your clients are set up with a repayment schedule that fits their unique needs. It's time to turn your clients' real estate dreams into a reality, and at Gravity Capital, we know just what you need to successfully kick-start their perfect real estate journey. So stop waiting: Click here to submit an application today!